SIRV
Classification
 / 
Business line
Food and Beverage
Pharma and Nutraceutical
This model is dedicated exclusively to granules by its compact, low-priced and easy-maintenance design, featured by the high-pressure rotary valve. The material is distributed in a small amount to be sterilized as if it were treated with a "continuous rotary autoclave." This model incorporates the vibrating dryer cooler suited to dry and cool the granules.
Features
Minimal System Configuration
The key component is the specially-designed rotary valve only to ensure the compact and economical design and easy maintenance.
Excellent Sterilization Effect
Superheated steam with big thermal energy is directly blown into the pockets of the rotary valve to kill E coli, viable cells and thermoduric cells for three to ten seconds.
Flexible and User-friendly Operation
The changeable pressure, temperature and heating time make the system flexible for linds of granules.
Easy Cleaning
The pneumatic pipe can be cleaned easily by flushing water from the material feeder and dried with the inline heater.
Typical Applications
Spices / Cereals / Other granular materials
Flowsheet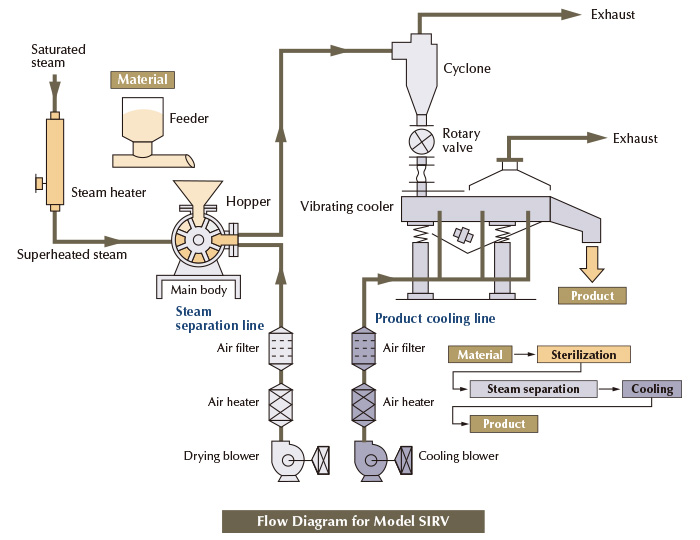 Examples of Sterilization Data
Material
Before Treatment
Conditions
After Treatment
Viable cell (no/g)
Thermoduric cell (no/g)
E coli
Moist .(%)
Pressure .(MPaG)
Time (sec).
Viable cell (no/g)
Thermoduric cell (no/g)
E coli
Moist .(%)
Black pepper (original)
1.6×107
4.8×105
(+)
10.8
0.55
5.5
8.0×102
6.0×102
(-)
11.0
Buckwheat (husk)
2.0×104
1.2×102
(+)
10.1
0.20
4.5
< 300
< 300
(-)
9.7
Sesame (original)
1.2×104
8.0×103
(+)
4.7
0.20
4.5
< 300
< 300
(-)
4.7
* Analysis method: Viable cell: By standard agar-agar plate culture Themoduric cell: By standard agar-agar plate culture (boiled for 10 minutes) E coli: By BGLB method Moisture: By drying method.
Specification
Dimensions and Weights
Model
Main Body Dimensions / Weight
Width (mm)
Length (mm)
Height (mm)
Weight (ton)
SIRV-20
3,600
2,100
3,900
3
SIRV-50
4,600
2,600
5,000
4
SIRV-100
5,500
3,100
6,200
5
※ Operation and maintenance spaces are further required.
☆ A pilot plant is available at our facility.
☆ Specifications are subject to change without prior notice.
Capacities and Utilities
Model
Capacity
Utilities
Capacity (kg/hr)
Max. pressure (MPaG)
Sterilization time (sec.)
Steam (kg/hr)
Power (kW)
SIRV-20
200
0.55
3 to 12
80
30
SIRV-50
500
0.55
3 to 12
200
50
SIRV-100
1,000
0.55
3 to 12
350
65
※ Capacities is for granule with bulk density of 0.5 kg/L. It depends on the material properties.
※ Steam consumptions depend on thekind of material and operating conditions.
※ Steam consumption is for normal operation. It startup and cleaning, approx. 5 times of steam is required.
※ Cleaning water is needed.